"Happy, happy employees are the key to business success!" Uh, I know, right? Feels like there's been more than enough of the one-sided discussion around employee happiness and job satisfaction? Feels like everyone has bought into the hype, blasting how important it is to make sure your employees are happy and engaged? When did work become all about fun?
It didn't, really. Work is still work and business is still about making money. However, in order to maintain and grow your business, you need employees who work hard, deliver results, bring in new ideas to help grow your business and stay in the company. Also, it doesn't hurt if your employees spread a good word about the company and help you recruit the best talent to work there. If they don't, it will hurt your business – a lot.
Disengaged employees put in less hours, struggle to get things done, don't take initiative and are more likely to leave the company. No matter how hard you try, there's no way to reach a 100% employee engagement rate. There'll always be employees who are unsatisfied, disagree and complain despite all your hard efforts.
It is what it is, but it's no get-away-free card to not face the challenge head-on. Especially since disengaged employees are probably costing you more money than you realize.
Download these four simple co-creation templates to engage your employees in developing your company strategy.
Poor employee engagement is money right out of your pocket
If your employees are not "feeling the love", they are less likely to put in the extra effort and help you grow your business. However, they are more likely to project their negative feelings onto your customers and cast an undesirable light on your brand. Ok, "love" may be exaggerating. In some cases, a neutral attitude towards working is enough to deliver results but the tricky question is how high of an employee engagement level is high enough?
Employee engagement may be an over-used buzzword but it's not entirely intangible. It's not just an unfortunate case of some people feeling a negative vibe around the office. It's serious business for your business because low employee engagement is costing you money.
According to a report by Gallup, only 13% of employees worldwide are engaged and it's costing in productivity.
Not to mention the personal repercussions of feeling stressed, burned out, negative and unproductive in and outside working hours. Even if these feelings were just a problem of few, they still affect your company as a whole because attitude is contagious: poor employee engagement spreads like a virus in the workplace. Disengaged employees discouraging their more engaged colleagues and pushing work onto others will ultimately lead to feelings of inequality and resentment.
Poor employee engagement leads to people getting distracted at work with other more compelling things to do than working, such as online shopping and job hunting.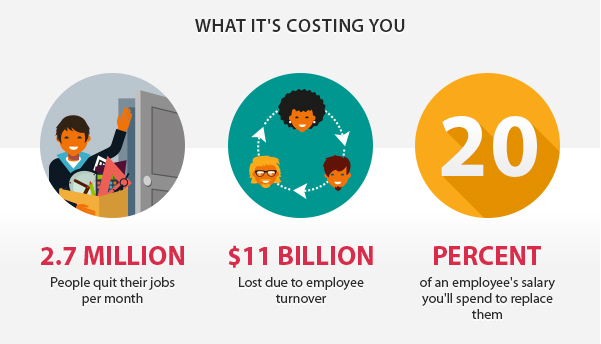 Source: https://www.socialtalent.co/blog/employee-engagement-in-the-workplace-infographic
A meta-analysis research conducted by Gallup, using 263 research studies across 192 organizations in 49 industries and 34 countries, also confirmed that disengagement affects negatively several key performance outcomes, such as
Quality (defects)

Safety incidents

Shrinkage (theft)

Customer ratings

Absenteeism

Turnover
All this will inevitably reflect poorly on productivity and profitability and prevent your company from growing.
And we don't want you to become a victim of poor employee engagement, so we built these four simple co-creation templates with practical step-by-step guidance on how to engage your employees to co-create and develop your company strategy.